3D Displacement Sensors
Cognex 3D displacement sensors optimize product quality by providing three-dimensional inspection of your products. The sensors are factory calibrated and include industry-leading Cognex machine vision software with powerful 2D and 3D toolsets and a compact, IP65-rated design that withstands even the harshest factory environments. Combined with unique field calibration technology Cognex 3D vision provides the highest accuracy data despite mechanical mounting or motion errors, as well as enabling the simultaneous use of multiple sensors on wide production lines to generate single high resolution 3D images.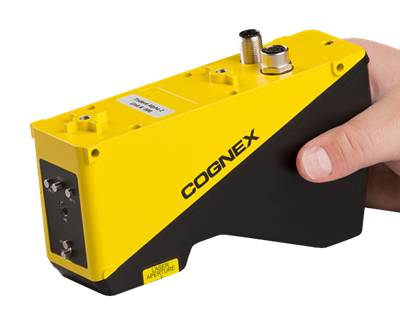 Complete 2D and 3D machine vision solution
•  Expanded range of sensor options
•  Bundled with VC5 Controller
•  Easy deployment with Cognex Designer™ software
Measurements provided in real-world units
•  Calibrated 3D system
•  Micron-level accuracy
Easy-to-use field calibration
•  Protection against misalignment and motion errors
•  Consistent results across production lines
3D image stitching
•  Higher resolution and wider fields of view
•  Simplified multi-head analysis
Contrast independent inspection
•  Dark object on dark background
•  Independent of color 
Concurrent intensity data
•  Spatially-aligned 3D and 2D vision
•  Enhanced textured 3D visualization
Ability to combine 3D sensors and 2D cameras
•  Many applications require both
World-class 3D and 2D vision tools
•  Height, volume, plane fitting and tilt tools
•  PatMax®, IDMax® and OCRMax™ algorithms
Industrial IP65 housing
•  IP69K enclosure option for food and beverage applications
Fast scan rates
•  Up to 18KHz 
Speak with a Dedicated CIMTEC Represenative
CIMTEC has developed an extensive product offering through partnerships with industry leading manufacturers. With extensive experience in the industry, count on us to meet your needs while improving your facility's operation and efficiency.