Dataman 8070 - Series Handheld Barcode Readers
The DataMan 8070 series, including direct part mark (DPM) and extended-range models, provides powerful barcode reading performance for challenging DPM and label-based code applications on the widest variety of surfaces and marking methods. Featuring the latest patented technology, advanced lighting options, and modular communications, the DataMan 8070 series is ideal for automotive, aerospace, medical device, and logistics industry applications.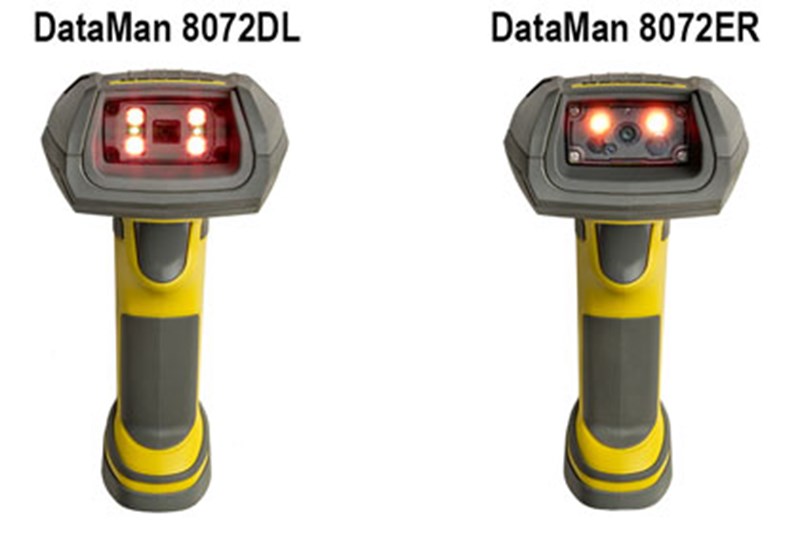 DL and ER Models Deliver Powerful Performance
The DataMan 8072DL (DPM Lite) handheld barcode reader delivers powerful barcode reading performance for tough DPM codes on flat, highly reflective surfaces. It features the latest patented technology and advanced lighting and optics, ideal for automotive, aerospace, and medical device industry applications. The DataMan 8072ER (Extended-Range) handheld barcode reader is designed for logistics and warehousing applications, reliably reading 1-D and 2-D label-based barcodes from up to 8 meters away. It features the latest patented algorithms, liquid lens technology, and high-powered LED lighting and laser aimer for efficient long-range scanning.
Robust, Modular Communications Enable Easy Integration
Field-interchangeable communication modules easily integrate with factory networks, allowing each reader to be configured to meet specific communication needs. Corded RS-232, USB, and Ethernet options, as well as a cordless Bluetooth option are available for DataMan 8070 series handheld barcode readers.
Speak with a Dedicated CIMTEC Represenative
CIMTEC has developed an extensive product offering through partnerships with industry leading manufacturers. With extensive experience in the industry, count on us to meet your needs while improving your facility's operation and efficiency.