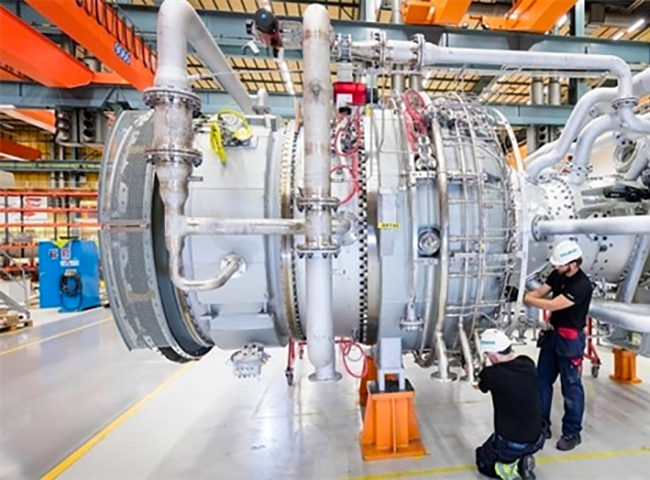 Simple Cycle Power Plant Migrates to the Rx3i PLC System
OVERVIEW:
A 700 MW simple cycle power plant, utilizing 4 gas-peaking turbines wanted to upgrade their PLC system as part of a plant-wide upgrade. The PLC system consisted of 3 main processes: The main Balance of Plant (BOP) 90-70 PLC system, along with the remote Field Control I/O racks, a MODBUS 90-30 system, and a Sequential Events Recorder which also utilized a 90-30 rack. The plant operators wanted to replace all of the end-of-life and obsolete equipment in order to ensure greater reliability and improved communication capability. 
CHALLENGE:
CIMTEC recommended that the 90-70 and 90-30 systems be replaced with RX3i systems, and the remote Field Control I/O racks be replaced with Versamax. All of the program conversion and wiring diagrams were completed at CIMTEC's facility prior to the system installation. CIMTEC then went on-site to install the new system. The installation and start- up took 7 days, with the majority of the time for re-wiring the panels and installing the Versamax I/O. Because of the very tight shut-down window this work could not be started ahead of CIMTEC's arrival. The remainder of the time was for testing the programs on the machine and confirming communications. CIMTEC then provided training on the new Rx3i hardware, the Proficy ME software and how to troubleshoot any problem that may occur. This was a reinforcement of training previously provided by CIMTEC. 
SOLUTION:
Because the new RX3i racks occupy the exact same footprint inside the panels as the 90-30 racks, and all of the Versamax I/O could be installed on the same din rails as the existing Field Control I/O, CIMTEC's solution allowed the plant to completely install all the new hardware within the existing panels. This completely eliminated any structural or infrastructure modifications in the control rooms. Since the program conversion from 90-70 and 90-30 to the Rx3i system is so straightforward, there was minimal troubleshooting and revisions required during commissioning. The start-up and commissioning was completed in less than 4 days and the plant operators reported all systems were functioning properly. The feedback was entirely positive for a very successful project.