Safety Solutions
As one of the leading providers of safety technology, SICK offers a comprehensive portfolio of products and systems for fulfilling safety requirements in compliance with legislation and standards. SICK is able to provide complete safety solutions - from analysis to certified systems.
Safe Motion Monitoring and Control
The accurate observation of machine motions is known as safe motion monitoring and control. The interaction between people and machines is optimized by many certified drive safety features. Both mobile and fixed machines can reliably monitor direction, speed, and position. This implies that you can reduce machine downtime while using continuous processes.
Safe series connection
Up to 32 safety sensors at performance level e can be connected using the safe series connection. Regardless of the maker, you can wire safety switches and safety sensors with OSSD outputs in the mix. There is also a limited amount of detailed diagnostic data provided for each sensor or switch.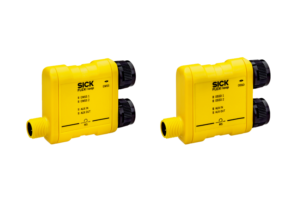 Safety camera sensors
Based on image processing technology, safety camera sensors are electro-sensitive protective devices. The safeVisionary2 3D time-of-flight camera offers accurate measurement data and safe three-dimensional environment perception. The camera creates new opportunities that could help your safety application function even more effectively. A straightforward and space-efficient replacement for safety light curtains for hazardous point protection is provided by the V200 and V300.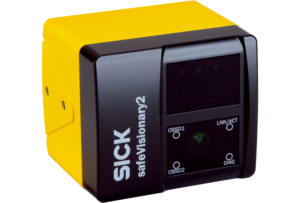 Safety controllers
SICK safety controllers guarantee dependable performance of both stationary and mobile machinery. Safety controllers offer simplified wiring and commissioning in addition to modular hardware. Quick project planning is made possible by user-friendly configuration tools. The devices are suitable for a wide range of applications, both basic and complicated, because of their versatile design and many features.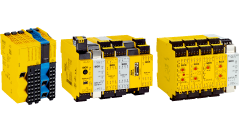 Safety distance sensors
To protect people and property during industrial operations, safe distance measuring is essential. SICK's safety distance sensors provide increased productivity. This is made possible by a broad measuring range, cutting-edge technology, and small, space-efficient housings.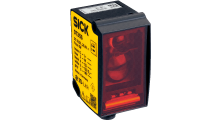 Safety laser scanners
SICK safety laser scanners combine expertise and performance to the highest level. Our extensive portfolio provides the best value-added solution for every need, whether it is mobile or permanent, for area protection or access protection, indoors or outdoors. The little devices scan their surroundings and gauge distances using the time-of-flight measuring method. Monitoring of protective zones in two dimensions is made possible by an integrated spinning mirror.

Safety light curtains
Safe access protection for dangerous spots and locations is offered by safety light curtains, which are dependable and affordable. Various machine functions may be integrated or selected using safe control systems depending on the version. The collection offers exceptionally robust and resilient variations for unique environmental circumstances in addition to small and compact designs.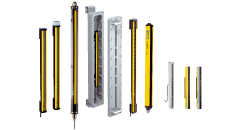 Safety light-beam sensors
Access points are safely monitored over great distances by safety light-beam sensors. Their uniform and small housing enables quick commissioning. Diagnostics are also simple to carry out. The material flow is aided by the safe human-material differentiation, which in turn provides fewer downtimes and efficient processes even in challenging environmental conditions.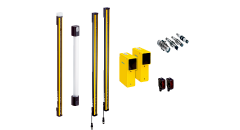 Safety multibeam scanners
The advantages of a safety light curtain and a safety laser scanner are combined in SICK's safety multibeam scanners. LiDAR sensors' secure solid state technology enables compact integration of sender and receiver units without moving parts in a single unit. As a result, invention took on a new dimension.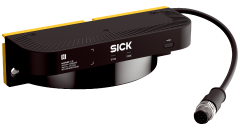 Safety radar sensors
Safety radar sensors from SICK are known for providing accurate human and object detection with exceptionally high machine availability, even in demanding production environments. The robust radar technology from SICK assures excellent machine and plant productivity regardless of sparks, wood chips, dust, heat, cold, or other interfering conditions.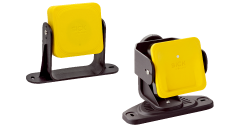 Safety relays
You can integrate safety features up to PL e with the help of SICK's wide range of safety sensors and safety relays. Simple connection with the control cabinet, simple parameterization, and quick reaction times help you save time and money. Locate the ideal safety relay for your needs.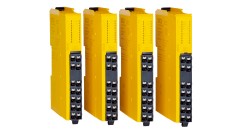 Safety switches
In any application where machinery and human safety are required, safety switches are essential. They are utilized for the safe stop function, guarding mobile physical guards, and locating unsafe movements. Safety command devices, safety locking devices, and electro-mechanical and non-contact safety switches make up the portfolio. SICK provides optimal full solutions from a single source in addition to secure control solutions.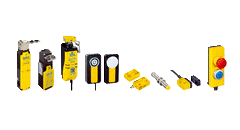 Safety systems
SICK safety solutions combine productivity and personal safety. With the appropriate documentation, they may be quickly integrated into plants and are made up of software and hardware that have been specially tailored to a variety of applications. Safety systems, for instance, can be developed to address the following problems: AGVs, AMRs, robots, or automated material flows.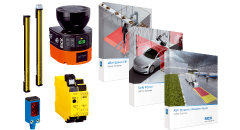 Traffic Sensors
Added safety – fewer backups: These are the key requirements of traffic service providers. Intelligent traffic sensors are absolutely fundamental to ensuring state-of-the-art traffic guidance technology. With its sophisticated equipment for measuring visual range, visibility, and wind speed, as well as detecting overheight, SICK is helping to find solutions to these tasks.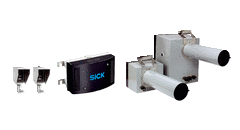 Speak with a Dedicated CIMTEC Represenative
CIMTEC has developed an extensive product offering through partnerships with industry leading manufacturers. With extensive experience in the industry, count on us to meet your needs while improving your facility's operation and efficiency.