Festo offers one of the largest selections of pneumatic, electrical and control components available from a single source. You can select from a large variety of families, including pneumatic valves, pneumatic and electrical cylinders and controls.
Pneumatic Cylinders
At Festo, the range of pneumatic cylinder drives includes piston rod cylinders and rodless cylinders (linear drive), swivel cylinders, tandem, multi-position and stopper cylinders as well as clamping and tensioning cylinders, drives with linear guidance, and bellows and diaphragm cylinders. In the range, we offer many standards-based cylinders with standardized dimensions and mounting interfaces.
Electric Actuators
FESTO Electric actuators lead the Industrial Automation Market with innovative and effective solutions for industrial motion control. Electric axes Electric cylinders and slides Electric rotary actuators Electric stoppers.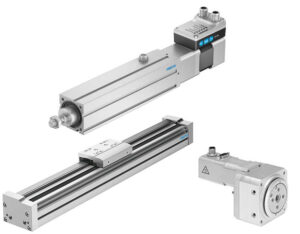 Pneumatic Valves and valve manifolds
Festo valves can be used universally or configured individually depending on the application. In addition to directional control valves, shut-off, flow or pressure regulators, our product portfolio also includes piezo valves – proportional pressure regulators that are characterized by their long service life and minimal energy requirements.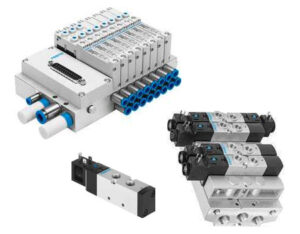 Grippers
Festo grippers and gripping technology offer global solutions for a wide range of handling applications. Festo offers both pneumatic and electric grippers with long strokes. Mechanical grippers also differ with respect to the number of gripper jaws. There are pneumatic grippers with two gripper jaws in parallel, radial and angled gripper design. There are also pneumatic grippers with three gripper jaws.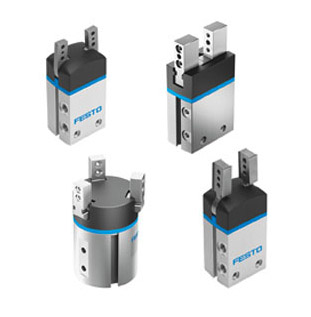 Air Preparation
Festo's air preparation combination units ensure the correct compressed air quality and filters compressor oil, condensate and dirt particles from the air. Depending on the application, a service unit consists of a pressure regulator, various filters, a branch module and pressurization and exhaust valves.
Filters
Filter regulator combination units
Regulators
Lubricators
Air dryers
Shut off and soft-start dump valves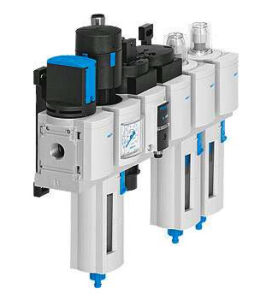 connectors, fittings & tubings
Festo's range for pneumatic connection technology includes various connection elements such as fittings, couplings and distributors as well as the matching tubing and pipes. In this way, pneumatic components in factory automation can be easily connected to suitable lines in the overall system.
Industrial Robots
Festo linear and sliding drives are ready-to-install Cartesian robots for multidimensional movements. Linear, area and 3-dimensional gantries allow free positioning within the linear range up to the three-dimensional space. With coordinated stepper and servo motors, motor controllers and an integrated energy supply concept, a reliable, ready-to-install solution is provided.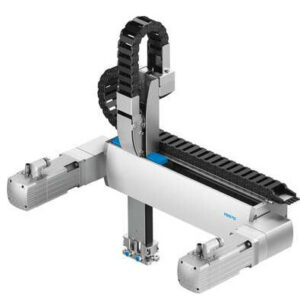 Speak with a Dedicated CIMTEC Represenative
CIMTEC has developed an extensive product offering through partnerships with industry leading manufacturers. With extensive experience in the industry, count on us to meet your needs while improving your facility's operation and efficiency.