Safe distance measurement is crucial in industrial production for the protection of persons and capital goods. The safety distance sensors from SICK enable high productivity. This is ensured by a large measuring range, cutting edge technology and compact housings with low space requirements.
DT35-S
Safety distance sensors for various applications
Detection range from 0.05 m to 8.5 m
Safe analog and digital output
Compact housing size
IO-Link
Certified to ISO 13849 (PL b) and IEC 62998 (PC B)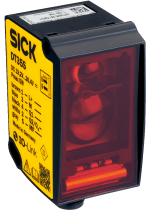 Speak with a Dedicated CIMTEC Represenative
CIMTEC has developed an extensive product offering through partnerships with industry leading manufacturers. With extensive experience in the industry, count on us to meet your needs while improving your facility's operation and efficiency.