LMI Accessories
Sensor networking hubs, cordsets, calibration targets, universal robots (UR) hardware kits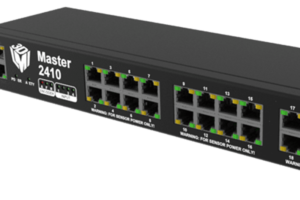 Sensor Networking Hubs
The LMI sensor networking hub, called the Master, is an advanced solution for distributing power and synchronization in a multi-sensor network. Master hubs come in two models – the 810 for networking up to 8 sensors, and the 2410 for networking up to 24 sensors. If you need more than an 8-sensor or 24-sensor network, hubs can be daisy-chained using an Up/Downlink port to add more ports by connecting another hub. The Master 810 and 2410 can be used to ensure that the scan timing is precisely synchronized across sensors down to 1 µs accuracy. Sensors and client computers communicate via an Ethernet switch (1 Gigabit/s recommended). Master 810 and 2410 hubs do not support digital, serial, or analog output. • Master 810 – for networking up to 8 sensors • Master 2410 – for networking up to 24 sensors
Cord Sets
Every Gocator sensor has two connectors – one for Power/LAN and the other for I/O. We offer two cordsets for the Power/LAN connection: 1) a dual RJ45 connector cordset for use with a Master hub and a Gigabit Ethernet switch; or 2) a single RJ45 and open-wire cordset for use with a Gigabit Ethernet switch and your own power supply. The Gocator I/O cordset provides an open-wire end for discrete I/O (2 inputs, 1 output), a quadrature encoder, 1 x serial, and 1 x analog outputs. Cordsets are available with straight or right angle Binder connectors that connect with the sensor.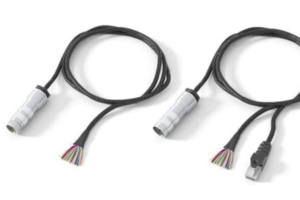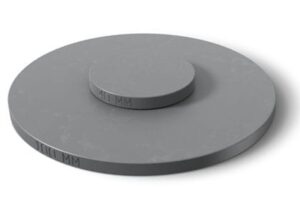 Calibration Targets
Targets are used for alignment and calibrating encoder systems. Disks are typically used with systems containing a single sensor and can be ordered from LMI Technologies. When choosing a disk for your application, select the largest disk that fits entirely within the required field of view. Note that for wide, multi-sensor systems, bars are required to match the length of the system. LMI Technologies does not manufacture or sell these calibration bars.
Universal Robots Hardware Kits
These kits are intended for customers who have a UR robot and want to quickly add a Gocator® 3D snapshot sensor. Two kits are available, one for Gocator® 3210 and one for Gocator® 3506. Each kit includes the respective Gocator® snapshot sensor model and everything required to mount and operate the sensor on a UR robot arm. Gocator® UR kits contain the following items: • Gocator® 3210 or 3506 3D snapshot sensor • Master 100 with sensor power supply and US cordset • Power/Ethernet to Master cordset, 5m • Gocator® 3210 or 3506 Universal Robots mounting bracket and screws • Calibration artifact: 50mm ball bar, ½" sphere (Gocator 3210 kit) or 20mm ball bar, ¼" sphere (Gocator 3506 kit) • Network cable, 2m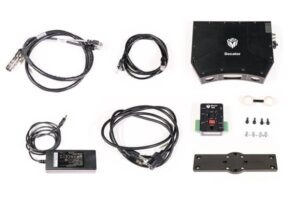 Speak with a Dedicated CIMTEC Represenative
CIMTEC has developed an extensive product offering through partnerships with industry leading manufacturers. With extensive experience in the industry, count on us to meet your needs while improving your facility's operation and efficiency.