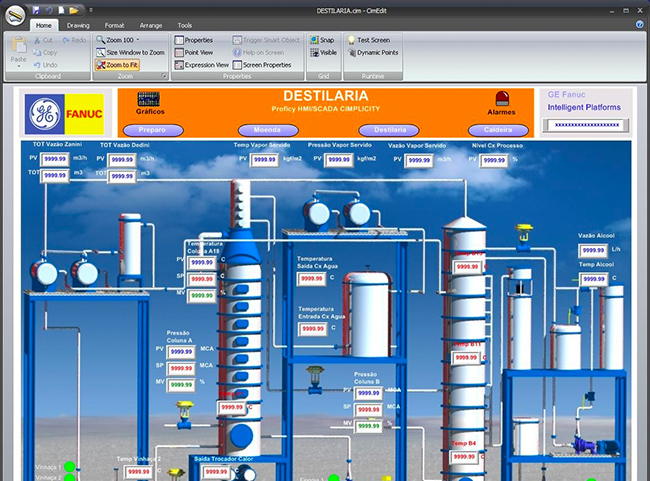 GE Intelligent Platforms Proficy.

Using Proficy Workflow by GE Intelligent Platforms to Reduce Production Costs, Improve Process Efficiency and Minimize Downtime
A production environment can be a very complex system, merging automated processes with manual tasks. Some systems can automatically report on conditions, while others require an operator's inspection to confirm conditions.
Process management systems have been developed to help to manage the complex flow of actions within a production environment. In fact, most production facilities have many complex work processes running concurrently, often with dependencies between processes. Digitized production management systems help production facilities streamline production processes, automate the flow of information, meet regulatory requirements, and share best practices. An example of a business process management (BPM) system is Proficy Workflow, developed by GE Intelligent Platforms. Proficy Workflow allows production facilities to create more efficient work processes by integrating automated and manual tasks into a single efficient operation.
Implementing Work Process Management Systems

Proficy Workflow is a service-oriented architecture (SOA) based system with centralized configuration and management that allows for power users to manage workflow without involving IT personnel. Proficy Workflow is integrated with an organization's enterprise resource planning system providing comprehensive information sharing and reporting capabilities.
Applications for BPM Systems
An integrated BPM system like Proficy Workflow can be used in a wide variety of production environment, from simple linear processes to complex systems with many interconnected workflow processes. Some applications include:
Process Documentation – One of the key features of quality control systems is the documentation of processes. BPM systems can be used to record processes during execution, including the steps performed, the time for each step to be performed, and the personnel required for each steps. The process can be reviewed and refined to create the most efficient process possible. Once streamlined, the process is digitally documented, and operators can be stepped through the proper process.
System Downtime Management – Because process tasks are recorded by the BPM system, downtime events can be reviewed and assessed to determine what corrective actions need to be taken.
Knowledge Base – BPM systems provide a knowledge base to system operators to provide steps to take under certain situations. This can benefit new operators who do not have the depth of experience that older operators may have.
System Setup – BPM systems can guide an operator through a system setup process based on a certain input requirement. For example, if a machine operator is setting up a lathe for a turning operation, the BPM system will review the information for the part to be produced and provide the operator with specific information on tool settings and fixturing.
Condition Triggers – If certain conditions are met, such as a variable falling out of range, triggers can be set off in the BPM system that will initiate a secondary process that doesn't usually occur, such as a manual inspection. For example, if a individual process is taking longer than usual to perform, the operator will be alerted to step through a troubleshooting process to determine if there is a problem with the machine.
Connecting BPM to Other Enterprise Systems

SOA-based BPM systems such as Proficy Workflow can be connected with other enterprise systems within an organization to provide comprehensive reporting and information sharing capabilities. Some examples include:
Human-Machine Interface (HMI) – Many production systems include interfaces for operators to control machines and processes. BPM systems can connect to HMI systems to provide the most up to date process information, troubleshooting information, and information on upstream and downstream processes.
Manufacturing Execution Systems (MES) – MES systems often act as an intermediary between ERP systems and machines on the production floor. BPM systems can automate changes to engineering specifications and trigger quality testing of new processes.
ERP Systems – BPM systems can provide users on the floor can access system information that they need from any part of the company and provide process visibility, allowing managers to get up to the minute statuses on order production.
Business process management systems such as Proficy Workflow will give companies the potential for operational excellence from top management through machine operators by providing consistent, accurate information and instructions through all steps of production.