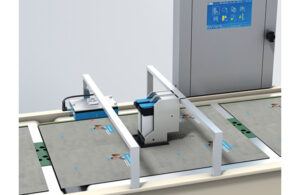 Companies are always looking for ways to stay ahead of technology and bring efficiency and cost effectiveness to their production lines. Our state-of-the-art sensor products are what sets us apart from our competitors. Now it's possible to capture motion without contact. The SPEETEC® from SICK opens up new possibilities for measuring sensitive, soft, or smooth objects.
The SPEETEC adds technology that measures directly on the material surface to product options for measuring the speed and length of objects moving in a linear path. With an accuracy of just 4 m, the non-contact sensor can measure a variety of web and continuous materials as well as blanks.
The SPEETEC® from SICK is a cutting-edge, non-contact sensor for measuring the speed and length of objects moving in a linear route. It is slip-resistant, devoid of measuring elements, delicate surfaces, and wear-and-tear on tactile sensor elements, as well as being without measuring elements.
Special Materials Sensing
Customers from manufacturing or logistics automation want non-contact measuring options for the length, speed, and location of continuous webs and blanks for sensitive, soft, or smooth surfaces. Optical scanning reduces damage and contamination, improving the quality of the final output.
With the SPEETEC®, you can measure without worrying about slippage, measuring errors, marking mistakes, or tactile sensor wear and tear. The SPEETEC® can measure materials with a high degree of process reliability and availability, affecting the function of measurement solutions such measuring wheel encoders through wear, adhesion, or abrasion damage.
Highly Accurate Measurement Principle
Since the SPEETEC® is equipped with Class 1 lasers, it offers an alternative to expensive laser velocimeters and the associated costly protective measures. The return on investment (ROI) is particularly attractive. For the SPEETEC®, this is less than a year.
The non-contact measurement is performed with a laser Doppler process at speeds of up to 10 m/s. Two transmitters emit laser light – one in the direction of movement of the material, the other in the opposite direction. Since the transmitters work independently, possible mounting tolerances and surface fluctuations (i.e., with wavy surfaces) can be balanced out.
All measurements are done with high precision. At a resolution of four micrometers, the accuracy relating to the object length of a meter is one millimeter. The repeatability in this case is specified with a half a millimeter. Measured values are output via the TTL or HTL interfaces common in the encoder world, making integration easy.
SPEETEC Features at a glance:
Ensures a high level of product quality by using optical sensors, avoiding damage and contamination to the surfaces being measured
The Class 1 laser saves costs as no additional laser protection measures are required.
High measurement accuracy and reproducibility, including in start-stop operation at short measurement lengths
Optimized productivity and process quality through measurement without slippage
Broad range of applications thanks to compatibility with many materials, colors and surfaces, as shown above
CIMTEC engineers are trained and experienced with all of the SICK line of products, let us show you the power behind the SICK SPEETEC.  877.524.6832