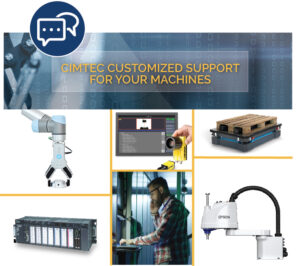 After 30 years of supporting the southeast's most demanding operations, we have learned what our customers need.  Fast response, technical support, expedited shipping, and preventative maintenance, are just a few.
Membership Has Its Privileges
CIMTEC invites you to join one of the most comprehensive service programs in the industry.  Get access to our expert engineers with just one call 24/7, priority response for on-site emergencies, and around the clock access to critical parts. Take a look at what we offer and find the right Service Program for your facility.  Below are our 6 customized Service Programs, if you don't find what you need, just ask!
Priority Response
One call access to CIMTE'S Priority Response support team.
Remote advice, guidance & diagnostic expertise to help your engineers quickly resolve most issues.
If required, priority, 24/7 dispatch of experienced technicians directly to your site.
Immediate access to archived backup programming, specialized proven troubleshooting protocols & diagnostic tools for a wide range of PLC's, Vision systems, Robots, Drives and Sensors
PRIORITY RESPONSE TERMS: Annual Coverage
Tech Call Hot Line
24/7 access to highly qualified experts
Access to detailed knowledge and reference materials for vision and robotics systems
Remote diagnostic access capability directly into your on-site hardware
TECH CALL HOT LINE TERMS: Annual Coverage 
FAST SHIP: Immediate access to critical parts
A detailed analysis of your operations, and the parts your systems will most likely need for both ongoing maintenance and emergency repairs
A CIMTEC purchased and maintained inventory reserved for your use – don't buy it until you need it.
Discounted shipping rates on all reserved stock orders
FAST SHIP TERMS: Annual Coverage
SENTINELPM: Customized preventative maintenance
A thorough risk assessment of your equipment, operating requirements and environment
Comprehensive program of pre-emptive maintenance visits at your site tailored to manage your unique robotics and vision system risks and minimize unplanned downtime
Detailed summaries of assessments and ongoing maintenance
Includes all consumable PM parts and lubrication: Belts, batteries, solenoid brakes & filters
SENTINELPM TERMS: Annual Coverage
CIMTEC BLANKETCARE®: The best automation uptime program in the industry
Priority Response: Rapid response on-site emergency repairs
Tech Hot Line: 24 /7 hot line access to specialized robotics technicians
Fast Ship: Around-the-clock access to critical parts inventory reserved specifically for your company's vision and robotics systems
SentinelPM: Customized preventative maintenance to maximize productivity
CIMTEC BLANKETCARE® TERMS: Annual Coverage
CUSTOMIZED SUPPORT: Just tell us what you need.
Some customized services we've provided have included:
On-site re-programming for process changes: Periodic on-site program additions or changes due to modifications or additional product extensions
Remote-access troubleshooting: Secure remote network access for safe, fast technical support.
Off-line programming, program storage and backup download support: Off-site programming and downloads to ensure continuous production.
Don't see what you need? Just ask.
CUSTOM DEFINED RATES AND TERMS: Call for quote
We have structured our service agreements to meet the needs of our customers.  Call us and let one of our experts devise a service agreement that fits your needs! 877.524.6832