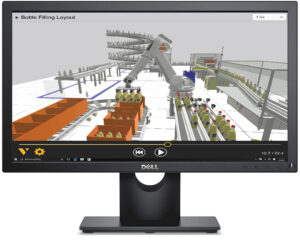 Simple. Visual. Powerful. Design and validate new production solutions confidently, with Visual Components 3D manufacturing simulation software.
Whether you're looking for a tool to quickly design and present production solutions, or a platform to power your offline programming applications, we've got you covered. Check out Visual Components' family of 3D manufacturing simulation products.
Visual Components is the next generation of 3D manufacturing simulation technology. Designed for manufacturing professionals and built on a powerful, flexible, and scalable platform. Start your free trial today and start experiencing all the features of this software. With your purchase you get:
• The Essentials, Professional or Premium level of the Visual Components Software
• Example simulations and online learning academy
• Unlimited access to the robot library
Why Simulate with Visual Components?
One platform for all use cases
Visual Components offers one platform for all kinds of 3D production simulation and emulation applications in the automotive manufacturing environment – layout configuration, material flow simulation, Offline Robot Programming, virtual commissioning tools, Virtual Reality experience, etc.
Improve Communication across teams
An efficient automotive manufacturing system relies on transparency and clear communication across all teams. Visual Components improves that communication and collaboration by providing direct, visual, and data-driven simulated plans.
Powerful sales acceleration solution
Visual Components is a powerful simulation platform that offers all the bells and whistles for sales acceleration use cases. Design and simulate your proof of concepts in simple and easy steps, modify the designs on-the-go together with your customers and impress them with stunning visuals.
A Visual Components demo is available for free. Please contact one of our engineers at 877.524.6832. Learn more by visiting the Visual Components product page here.