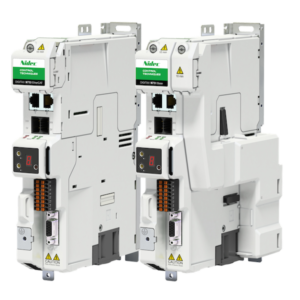 The Digitax HD M750 is designed to meet the demands of modern manufacturers for smaller, more flexible and higher performing machinery.  CIMTEC's line of Nidec ethernet drives have a proven track record of outlasting their competitors brands.  With a network servo drive for centralized and decentralized motion applications and real-time ethernet with RTMoE (Real-Time Motion over Ethernet) the Digitax HD M750 increases capability and performance for your machines and your bottom line.
Open, efficient, synchronized Ethernet
Maximize machine productivity through high performance deterministic Ethernet. Access future developments in IT-based industries where billions of nodes are installed, future proofing your investments. Ethernet webpages hosted onboard the M750 Ethernet drive.
Reduce cabinet size with ultraflow thermal management
Digitax HD's standard Ethernet also supports RTMoE which provides synchronized communication between drives using the Precision Time Protocol as defined by IEEE1588 V2. Distributed clocks are used to automatically synchronize the position, speed and current loops across all drives.
Minimum size, maximum performance!
Due to our innovative design you only increase drive size when option modules are used, achieving significant space saving in the overall configuration.
The new Digitax HD range brings ultimate performance to high dynamic, pulse duty applications, where high peak torque is required for fast acceleration. Minimal footprint and exceptional power density make Digitax HD one of the smallest servo drives on the market today. This means that you can build the most compact cabinets possible.
CIMTEC is committed to supplying our customers with best in class products and expert support.  Visit our full line of Nidec servo solutions at www.cimtecautomation.com or call us at 877.524.6832