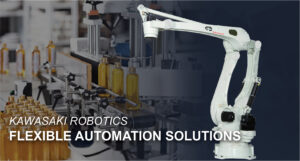 While impressive advancements in plastics and rubber technology have created new profit opportunities for manufacturers in the space, falling production costs and improving logistical connections have simultaneously reduced barriers to entry for competitive manufacturers in Asia, Latin America, and the Near East. Flexible, scalable automation solutions offer clear advantages for plastics and rubber product manufacturers that wish to remain profitable and competitive in a dynamic industry. From production and assembly to packing and palletizing, Kawasaki robots play a role at every stage of the manufacturing process to improve productivity and control costs.
Control Costs and Improve Productivity
CIMTEC carries the entire line of Kawasaki robots, and they efficiently handle raw plastic and rubber materials as well as finished products. Their fast, precise, nimble arms excel at unloading injection-molding machines, trimming parts, and assembling components. In addition to the production, assembly and handling of plastic and rubber products, Kawasaki robots can also assist with sorting and inspection tasks. After initial production, thier high-speed, flexible robots enhance efficiency and throughput with plastic part picking, sorting, packing, and palletizing for finished consumer products like children's toys, auto components and small household appliances. Their robots also assist with painting and sealing of plastic parts as well as with grinding and polishing for high-strength industrial rubber and plastics, including polyurethane and polycarbonate.
CIMTEC commits to understanding your business, your processes, the people who need to use it, and your ROI objectives. To find out more about Kawasaki Robotics Call and speak to one our  engineers, 877.524.6832.