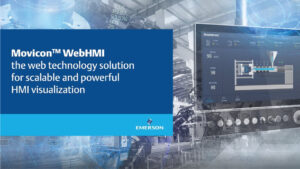 Whatever it is you need to build CIMTEC engineers can help you do it in less time. With Emerson's new Movicon portfolio of software you get secure and reliable solutions to develop and maintain supervisory, control and data acquisition software applications with operator interfaces that can be used to access data by remote or from mobile systems. Movicon's proven technology is reliable, powerful, and open offering unmatched flexibility.
Movicon is based on classic and consolidated technology for SCADA/HMI platforms, with unrivalled transparency, simplicity, and performances. Movicon™ 11 is unique SCADA/HMI software completely based on XML standards and affirmed and open technologies such as Vector Graphics, SVG graphics, OPC UA, SQL, ODBC, .Net in addition to the HTML5 technology and Apps for Web Client solutions. Movicon™ 11 is a standard software for all those operating in industrial automation, remote control, utilities and building automation.
What are the advantages of using Movicon?
An ideal all-inclusive platform for creating supervisory applications for big systems to small, embedded HMI systems.
Openness – Based on the concepts of "Plug-In", it allows maximum interoperability with the system, so much so that it can integrate new functional modules into the Emerson Framework, fully customizing its own .NET solutions.
Scalability – Designed to ensure maximum scalability and allows you to use a single configuration environment for modular solutions in a simple and flexible way.
Fast Engineering – Faster development times aided by powerful wizards, symbol libraries and toolboxes.
Conforms to standards – The Movicon.NExT™ software technology conforms to standards for its openness and reliability.
Maximum security – Security is ensured while managing data between Server and Client and in the User and Password management by using various authentication models.
Connectivity – NExT™ is based on the OPC UA technology to ensure maximum native connectivity to any OPC UA-based device or application to offer unmatched safety and performance.
A truly universal Scada/HMI platform, independent from hardware, adaptable and deployable absolutely anywhere. Movicon™ offers an all-in-one platform that can be used at any level whether HMI operator panels and/or mobile devices based on WinCE, or personal computers in large industrial plant systems with client/server redundancy architecture and connectivity to any PLC, network and industrial or civil fieldbus. Your company's success depends on the openness and independence of your applications as
Protect your investments with the most innovative and modern software technology ever. CIMTEC commits to understanding your business, your processes, the people who need to use it, and your ROI objectives. To find out more about Movicon Call and speak to one our engineers, 877.524.6832.