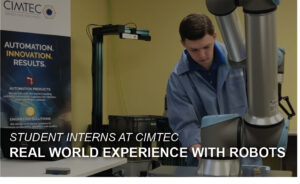 As collaborative robots emerge as the fastest growing segment of industrial automation, industry recognized robots are increasingly sought after in schools and manufacturing programs.
Getting students real world experience before they enter the workforce is a priority for every educational institution. Internships are part of a students' college experience and here at CIMTEC our interns have worked on a variety of robots. They are getting real-world experience and its exciting!  CLICK IMAGE TO WATCH DEMO VIDEO
"Over the course of my internship, I worked with Universal Robots (UR), Mobile Industrial Robots (MiR), and Epson Robots. Throughout the summer, I became more and more comfortable working with each of them. Having my freshman year mostly online due to the COVID-19 pandemic made "seeing" the content I was learning pretty hard. But once I was able to work with these robots, all the things I had learned in physics and my design courses came to life in front of me. I finally was able to understand how things like torque and lever arms are crucial in the industrial applications, or how it's critical to design your products with tolerances in order to allow for manufacturing errors." ‑Tony Nguyen, Virginia Tech
Now, with this collaborative team of cobots, your students will get to apply real-world applications, giving them the "in" they need as they hit the extremely competitive workforce. CIMTEC Automation partners with MiR and Universal Robots to provide the first industrial recognized collaborative offering for universities with special university pricing.
UR robots are used throughout the education, scientific, and research communities to create a foundation for accurate information-gathering and analysis, to develop new technologies, and to educate future generations. The MiR robots are autonomous robots designed to optimize the productivity in logistics and manufacturing operations. With the synchronization UR Cap you can easily connect the two, enabling a handshake between the MiR and UR.
Safe Around Students
A risk assessment of your facility is done to ensure students will be safe while working around the robots. These robots are intuitive and easy-to-program cobots, are used in vocational and technical programs to teach valuable and up-to-date automation skills and help address the manufacturing skills gap.
Features:
Fast set-up – The synchronization UR Cap easily connects to the MiR
Hands-on robot programming skills – Application tasks such as machine tending and PLC networking through Ethernet I. Students also learn to make customized, 3D printed grippers for the UR robots, using the online schematics of the robots' face plates.
Easy programming and maintenance – A Universal Robots arm consistently follows exact processes and predefined workflows with repeatability around the clock.
Focused hands-on classroom best practices- Blended in-class and hands-on delivery includes student-based projects, expanded training on interconnectivity and a clearly defined pathway for students to pursue an advanced Manufacturing or Mechatronics degree.
Fill out the "Request a Demo" form here and one of our engineers will be in touch. Or contact us at 877.524.6832.