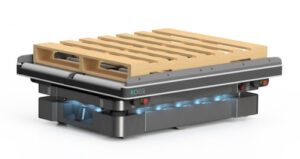 CIMTEC is proud to announce a new partner to their robot lineup – ROEQ, the largest conveyor for MiR mobile robots. ROEQ's family of products is designed to work seamlessly with MiR.  The time from deciding on a solution to having it integrated and operating at your facility is short, and the automatic attachment and detachment of applications from the ROEQ products will give your employees more time and structure in their work environment.
Flexible Solutions Designed to Move Your Business
Developed and designed to be used with MiR robots, ROEQ delivers flexible solutions to many different areas within different industries. ROEQ solutions can contribute to an array of workplaces, enabling MiR robots to solve multiple tasks like package- and sample delivery in workplaces like medical facilities or further automatizing assembly lines in factories.
By utilizing ROEQ equipment the load capacity of your MiR product will increase, as will the amount of payload handled, due to the diverse tasks that the ROEQ solutions enable them to perform.
Real efficiency in logistics automation is achieved when the entire workflow is handled by robotics solutions that communicate smoothly with one another. ROEQ is focused on making safe and secure solutions and they test and try the equipment thoroughly through every stage of its development and design.
"A mobile robot without a conveyor or top module is like a robot arm without a gripper," said Peder Grejsen, technical sales manager at ROEQ. "Production throughput can be greatly improved when mobile robots are outfitted with intelligent top modules that self-load and unload."
ROEQ has integrated a family of products which work with MiR robots for multiple tasks:
ROEQ TR500 Top Roller – Designed to perform automated load and unload operations with the Mobile Industrial Robots MiR500
ROEQ C300 Cart – Used with the MiR100™/MiR200 to move ROEQ C300 cart between logistic points. With the top module (TMC1) the robot can manage several carts
ROEQ R150 Rack – Developed to support internal logistics in industry and health care facilities, can be used with a standard rack attached or as a base for a customized application
ROEQ C300 Cart Permanent – Permanently attached to MiR robots, adds stability and enables increased payload
ROEQ TML150 Lifter – Used with MiR100 / MiR200 with the lifter top module to move goods between logistic points
ROEQ TR125 – Designed to perform automated load and unload operations installed on the MiR100 / MiR200
ROEQ CP300 Cart Pallet – designed to perform automated internal pallet transport with the MiR100 / MiR200
Visit our website and read more about our new partner ROEQ, www.cimtecautomation.com