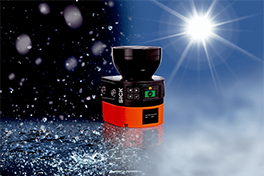 CIMTEC has partnered with SICK for over 20 years because of their innovative technology and product durability success. The SICK Outdoor Scan3 is another high end, rugged, reliable product that won't disappoint.  Thanks to the outdoorScan3, humans and machines now also reliably work together outdoors.
SICK has years of knowledge of field of laser scanners and they recognized early on that using laser beams to perform monitoring and measuring tasks leads to enormous productivity gains. That's why SICK has invested significant amounts in laser measurement technology, in both new technologies and product innovations alike. The OutdoorScan3 is the first safety laser scanner certified to IEC 62998 for use in outdoor applications with productivity in all areas such as:
Guided vehicle systems to navigate safely through outdoor industrial environments.
Hazardous area protection on machines such as lifting platforms
Protecting people when docking and undocking airbridges
The OutdoorScan3 Stands for High Availability, Even in Bad Weather
The outdoorScan3 works safely and reliably, even under challenging weather conditions. The patented outdoor safeHDDM® scan technology differentiates between real safety risks and interfering environmental influences.  It's innovative outdoor-safeHDDM scanning technology enables outdoorScan3 to work safely and reliably in all weather – sun, rain, snow, or fog, thereby closing a major gap in the automation of industrial processes:
It does not get dazzled by sun beams of up to 40,000 lx
Rain and snow are reliably filtered thanks to high-precision measurement data
Fog is detected reliably and causes a safe stop at a visual range below 50 m
Whether mobile or stationary, for area protection or access protection, indoors or outdoors – CIMTEC's comprehensive portfolio of SICK laser scanners offers the right cost-effective package for each and every requirement. Using the time-of-flight measurement principle, the compact devices scan their surroundings and measure distances. An integrated rotating mirror allows protection areas defined by the customer to be monitored in two dimensions.
To find out more about the SICK Outdoor Scan3 call one of our SICK experts at 877.524.6832 or visit our website at www.cimtecautomation.com