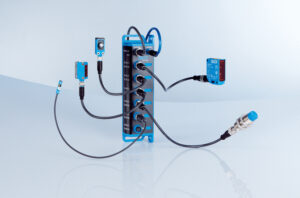 The easy way for sensor integration
Is collecting and monitoring digital standard signals for your equipment complicated? CIMTEC has an easy solution. The SIG100 by SICK is an IO-Link sensor hub which makes these tasks easier than ever. Logical decisions are made based on the user configuration, and the results are transmitted via IO-Link to any IO-Link master. Devices are parameterized quickly and easily via an integrated USB interface and the SOPAS ET graphical user interface. For various applications, a drag & drop logic editor enables the quick and easy creation of an autonomous sensor system which can be operated separately from the central controller (PLC).
SIG 100 features:
Easy connection of binary sensors to any IO-Link master
Six configurable ports; each has two binary inputs/outputs to connect up to 12 I/Os
Quick and easy configuration of an autonomous sensor system, which consists of binary inputs and outputs, via drag & drop logic links without an additional controller
Reduced wiring effort and expense by consolidating individual sensor signals into a single IO-Link message
As part of the SICK AppSpace eco-system, the Sensor Integration Gateway (SIG) product family allows the seamless integration of sensor data and enables customizable application solutions based on the SOPAS ET technology. Digital input and output signals or IO-Link signals can be bundled easily via the ports on the SIG100 Sensor Integration Gateway and then linked to form a customized sensor-actuator system using the drag & drop function in the logic editor. The collected data can therefore be merged and transmitted to higher-level systems, including in the context of Industry 4.0.
Contact CIMTEC and to find out more about the SICK Sensor Integration Gateway 100 and others in this series at 877.524.6832