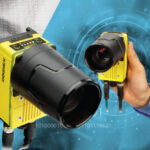 CIMTEC Automation understands the growing trends in factory automation and the needs for greater accuracy and large fields of view.  We are excited to bring our customers the newest model of Cognex's' vision family, The In-Sight 9000.
Cognex offers the widest range of machine vision and industrial products for all industry sectors. Their In-Sight 9000 line of standalone vision systems will deliver. Rugged and ultra-high-resolution, the In-Sight 9000 self-contained vision systems are ideal for detailed inspections of large, cylindrical, or continuous moving objects and deliver high-resolution images that can be used to detect even the smallest features and defects:
Robust pattern matching and image processing technology
The In-Sight 9912 model with HDR+, stretches the boundaries of high dynamic range (HDR) technology and enhances contrast across the entire image while maintaining speed. It is equipped with the PatMax RedLine—the gold standard for fast, robust, and high accuracy 2D pattern matching.
Image acquisition options allow line and area scan flexibility
The In-Sight 9000 offers both line scan and area scan image acquisition methods.
Multi-camera applications with single camera solutions
The In-Sight 9000 reduces complexity, calibration requirements, and cost compared to multi-camera systems. Because this is a self-contained unit, it reduces the amount of equipment to be installed on space-restricted production lines.
Large field of view with exceptional resolution
The In-Sight 9000 captures a large field of view which allows users to inspect large objects while maintaining exceptional image resolution.
No programming required
With the In-Sight EasyBuilder interface the operator is guided through a step-by-step setup process, and the advanced spreadsheet view offers direct access to vision tools. The single application setup environment allows operators to work within the same UI, regardless of application complexity or image resolution needs.
CIMTEC provides ongoing customer support for all our automation solution products, Contact one of our experts to find out more about the In-Sight 9000 cameras.  877.524.6832