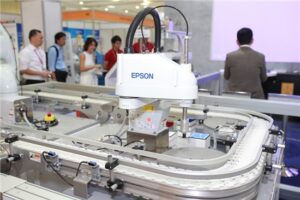 Epson is a global technology leader dedicated to connecting people, things and information with its original efficient, compact and precision technologies. Epson robots are the robot of choice for exceptional precision, speed, performance, ease of use and overall value.
The SCARA T6 installs in minutes and virtually eliminates any space-constraint issues. A unique all-in-one solution, it features a built-in controller and power for end-of-arm tooling. Plus, it includes Epson RC+ development software, 110 V and 220 V power, and the same advanced features found in Epson's high-end robots.
A powerful arm design offers a reach of 600 mm and a payload up to 6 kg. And, it's all available at an ultra-low cost.
Epson T6 Series Features:
Installs in minutes, unlike expensive, complex linear-slide systems; requires less time and money for system integration
Includes built-in controller with power for end-of-arm tooling, in one space-saving design
The same powerful features as Epson's high-end robots, at an incredibly affordable price
Built-in controller saves critical workspace being housed in the robot's base
Intuitive and feature-packed Epson RC+ development software makes it easy to create powerful solutions
Powerful arm design has 600 mm reach, up to 6 kg payload and multi-tool capability
Comes standard with 110 V and 220 V power
Built-in power for end-of-arm tooling eliminates the need for an external power source
Vision, designed specifically for robot guidance; plus, fieldbus interface solutions; RC+ 7.0 API software for open-platform functionality; teach pendants; and customizable GUIs
No battery required for encoder minimizes downtime and reduces overall cost of ownership
CIMTEC features a wide selection of Epson automation solutions for a variety of applications. We also provide complete Epson robot support in the form of comprehensive maintenance and repair services. Our expertise and capabilities mean we can assist virtually any industrial customer to implement these into their operations.
Contact our Epson Support team at 877.524.6832