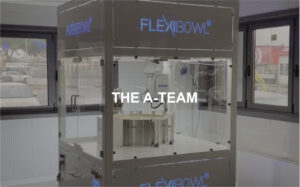 The automation industry is constantly bringing our customers new innovative ways to use machines for their production needs. The Epson SCARA Robot and Flexibowl have been working together delivering accurate feeding solutions to the manufacturing world for years.
Industrial robots are defined as 'multi-functional manipulators designed to move parts through various programmed motions. As such, robots provide consistent reliable performance, repetitive accuracy and can handle heavy workloads and perform in harsh environments. Additionally, robots can be quickly reprogrammed to reflect changes in production needs and cycles.
The SCARA robot is a manipulator with four degrees of freedom. This type of robot has been developed to improve the speed and repeatability ON PICK&PLACE TASKS from one location to another or to speed and improve the steps involved in assembly. Making it the perfect match for FlexiBowl®.
These robots are used in the automotive field, electronic, and other industrial fields where manufacturers need to feed bulk components of all sizes; FlexiBowl® excellent performance is quickly replacing other parts feeders.
FlexiVision and Cognex Vision
FlexiBowl's FlexiVision is a PC vision software for robot guidance that can be optionally supplied with FlexiBowl® systems. By integrating Cognex Vision, it can support multiple cameras and offers great flexibility.The system is compatible with a large variety of industrial robots and allows quick development of FlexiBowl® feeding cells: no advanced programming is needed.
Features:
Dynamic control of all FlexiBowl® functionalities (acceleration, speed, angle, flip)
Bulk feeder hystogram control
Robot and camera calibration
Vision models of the parts
Coordinates to robot
Robot Pick & Place sequences
Robot communication control
Receipt Management
Geometry and pattern matching
Want a demo? Have questions? Contact us at 877.524.6832 and one of our engineers will be ready to help. Shop FlexiBowl