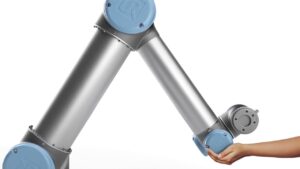 Allow CIMTEC to introduce to you to your most productive new hire ever.  The URe Series of Collaborative Robots (COBOTS) by Universal Robots.
What if you could automate the repetitive processes in your business so that they are done faster, better and more cost effectively than ever before?
COBOTS by Universal Robots are lightweight, flexible, and user friendly.  They are easy to program and operate and can automate almost anything from:
Tending
Packing
Inspecting
Assembly
Safety
Productivity
Validation
Controlling
And more
The Fastest Payback Answer to your Machine Tending Crunch
More than 80% of the UR robot arms in operation worldwide work next to humans with no safety guards. Built with the future in mind, the e-Series is designed to grow in capability alongside your business, a spring board to improved product quality and productivity, so you will always be able to stay ahead of competition. Collaborative UR robot arms come with an average payback time of 195 days regardless of your industry, company size or product nature.
"The UR5 does in 4 hours what it would take manual labor 3-4 days to accomplish"
—Geoff Escalette, RSS Manufacturing
Easily Programmable and Fast Set-Up
Patented technology lets operators with no programming experience quickly, set up and operate the cobots with intuitive 3D visualization. Simply move the robot arm to the desired waypoints or touch the arrow keys on the easy-to-use touchscreen tablet is all it takes. Our customers' average time for a complete set-up is just half a day.
Flexible Deployment
Dedicated robots are limiting.  Universal Robots are lightweight, space-saving, and easy to re-deploy to multiple applications without changing your production layout. Moving the cobot to new processes is fast and easy, giving you the agility to automate almost any manual task, including those with small batches or fast change-overs. The cobot is able to re-use programs for recurrent tasks.
Contact one of our experts and let us help you put the worlds number one selling collaborative robot on your team. Call 877.524.6832 or email to robothelp@cimtec.com.