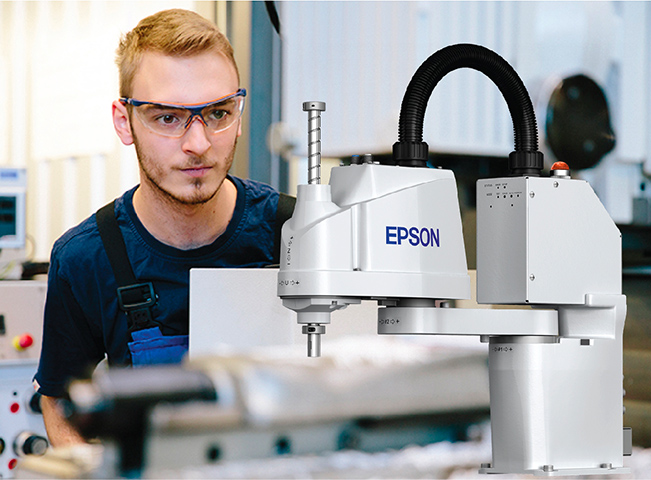 Epson Robots Give Real World Experience to Students in TriCounty's Mechatronics Program
OVERVIEW:
TriCounty Technical College is a public two-year community and technical college in South Carolina. TCTC offers a variety of programs in the manufacturing field of study. A graduate from their Mechatronics program will be able to install or repair, as well as disassemble and troubleshoot electrical, mechanical, hydraulic, robotic, pneumatic, and control systems, even to the component level in the world of automation manufacturing.
CHALLENGE:
TriCounty Technical College knew they had a top-notch Mechatronics program, but they also knew something was missing. In order to give their students actual industrial robotic skills and a technical edge when they entered the workforce, they needed to give them real world experience, robots that are actually used in today's industries. Finding the right robots and staying within budget was proving to be difficult. What they found was expensive and the companies didn't have a support system after the sale that made sense. They needed enough robots to accommodate their class sizes and wanted to ensure that who they bought from was there for them after the sale. When they reached out to CIMTEC for help, they got one of our best engineers to find a solution.
"CIMTEC was great! Their engineers helped us each step of the way, and saved us thousands of dollars. They even helped us mount our first robot."
—Doug Wilson, Program Director of Mechatronics, TriCounty Technical College
SOLUTION:
CIMTEC engineers partnered with Epson Robots to build the Epson T3 System a year before working with TriCounty and knew they had the best all around solution for them. The system was developed at the manufacturing level, and these robots are used around the world by manufacturing companies. CIMTEC provided everything they needed to get started; safety cage, teach pendant, 3 training seats for the Epson SPEL Core1 class and Epson 7+ programming and simulation software. TriCounty bought 10.