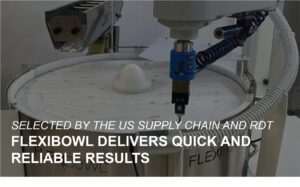 As seen in FlexiBowl article written May 2021
FlexiBowl, ARS robotic technology, has been selected by the US supply chain of swabs and rapid diagnostic tests (RDT). FlexiBowl is applied to feed parts into automatic machines that are deployed to contrast the spread of the pandemic. In this case, FlexiBowl is used by US companies which have been awarded by U.S. Department of Defense e Department of Health and Human Services. 665 million swabs and RDTs will be produced in the next 12 months by ARS FlexiBowl, a huge number of products guaranteed thanks to ARS leading technology which stands out for productivity among factory automation equipment's for Life Sciences.
U.S. Government effort to fight the pandemic is confirmed by extraordinary funds to boost manufacturing of rapid diagnostic tests (RDT) that will be distributed to the populations either through the public health or as home kits. ARS technology has been chosen once again by Life Sciences supply chain for the capacity of the company to deliver quick and reliable results.
ARS has been participating globally as a technological partner in factory automation processes for over 30 years. There is a huge amount of Medical and Life Sciences products that are produced through ARS solutions: only last year the company took care of the feeding processes for over 2 bn medical devices. FlexiBowl applications are not just limited to Life Sciences. ARS solutions are applied across different kinds of industries: from medical to electronics, from automotive to cosmetics and personal care, to mechanics.
ARS robotics is available across different industries, it is compatible with various processes and machines because it has been conceived to be easily integrated. It is thoroughly reliable, easy-to-use, and available throughout every company size.
ARS, an Italian organization based in Tuscany, is flexible and reactive when it comes to delivering huge quantities on a very short turnaround. The company has proved successful in managing the market demand and its reactiveness, indeed, has been largely recognized. ARS reactiveness has been a key factor in contrasting the global pandemic where manufacturing industries are struggling by the short time-to-market demand they need to meet.
ARS reliability has been confirmed by those which have chosen the company services and solutions. ARS supports customers from design to system start-up and it leads through every single phase of this process. The long-standing partnership with global players tells a story made of success, trust and added value.
"We see a future where young professionals are prominent leaders" these are Marco Mazzini's words, ARS founder and owner with an outstanding 35-year-careerin the robotics. ARS employs highly skilled professionals and there is a big space left in the organization to young people guided by few senior managers.
"Producers require cutting-edge technologies which need to be reliable, smart and ready to be used. We undertake this challenge every day with great enthusiasm and a relentless activity of R&D to deliver just the right solutions to our partners." says Stefano Martini, ARS Sales Manager.
Find out more about FlexiBowl here. Or call one of our engineers at 877.524.6832