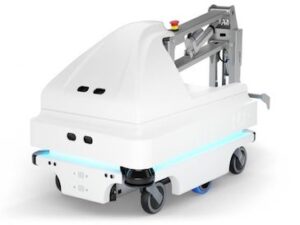 CIMTEC is proud to be partnering with MiR to better serve their customers' manufacturing efficiency and to provide factories with solutions that help them excel in automation.
Mobile Industrial Robots (MiR) is a Denmark-based company that develops some of the most advanced robots in the industry. Their robots provide affordable, flexible, and smart solutions for transportation needs indoors.
Robotics has been changing the way automation works. CIMTEC is furthering this vision of helping automation facilities everywhere increase efficiency and spend more time focusing on core competencies. We're proud to be able to do this through our partnership with MiR!
What Are MiR?
Mobile Industrial Robots focus on transportation of indoor items in manufacturing industries. These smart robots can import data about the layout of their surroundings to become familiar with the space. Their sensors and cameras help MiR operate safely within the facility. These intelligent machines will automatically stop and go around any obstacles they encounter.
What Do MiR Do?

MiRs do more than transport items—they transform your entire factory floor through their presence.
These robots can work with people as they're able to successful reroute around them. They're also able to work with numerous industries, from logistics to healthcare. Any interior transportation that needs to be done, they can do it. Your employees will then be able to better focus on tasks that'll help improve your core business.
These robots can transport as much or as little as you need them to, with some models transferring up to 1100 pounds. They help keep your employees available for valuable tasks and take care of the other smaller, repetitive tasks that need to be done and help make life at your automation facility easier.
How They Augment Automation
One of the best things about MiR is that their programming is simple. You don't need any previous experience programming, and updating the robot's tasks can be done easily at any time, from your tablet, smartphone, or computer.
Sensors and cameras help the robot safely navigate spaces and even drive up ramps and go on and off elevators. Automating your transportation needs makes your factory that much more efficient and your employees that much more available. MiRs identify the most efficient route to their destination and always avoid obstacles.
MiRs also have an automatic charging station, which means they can return to the station when their battery is running low. In the meantime, the robots can run continuously and when they need to be charged, it takes about two hours.
MiRs also operate through an interface that's easily accessible from any online location and can help you program your robots. This interface and management system increases workforce optimization because it helps you choose the best robot for a designated task based on where it is and what it's doing. Your fleet of MiR can run at their best with minimal issues.
The interface also gives you the option of updating you to let you know if there are any problems preventing your robots from doing their job through notifications of your choosing.
Considering MiR?
Take advantage of CIMTEC's expansive knowledge of robotics combined with the cutting-edge solutions that MiR provides. With no extra implementation costs and safe mobility around your factory floor, MiR is ready to help automate your transportation needs.
When you're considering MiR for your factory solutions, let's talk. Your logistics can be more flexible, deliver better ROI, and bring more robust and efficient technology to your door with robotics.