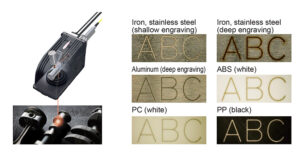 CIMTEC Automation offers the best in the industry for laser marking systems for the automotive, aerospace, tire and rubber, oil and gas, and other manufacturing industries. The Panasonic Laser marker series allows us to meet our customers' needs for engraving, etching, annealing, or ablation on nearly any product surface for permanent part identification. The high power noise reducing FAYb LP-RF laser marker by Panasonic is worth taking a look at!
The Laser Marker FAYb LP-RF by Panasonic is a reliable hard design with a high noise resistance controller, IP64 rating head, and simple operation that dramatically improves productivity and the broad advantages over conventional laser marking technologies.
Panasonic Laser Marker FAYb LP-RF Features:::
Compact fan-less head with IP64 Rating – The head was developed based on the fan-less head equipped in the LP-M series, so it's tough with no entry of water and dust particles to cause problems
Controller offering high resistance to noise – The controller is equipped with a power transformer and noise suppression parts to provide high resistance to noise, which helps prevent unexpected problems caused by sudden electrical noise.
Simple, high-speed, high-quality marking – The galvano controller and algorithm are designed to achieve optimum balance with the galvano scanner and mirror housed in the compact head. They provide beautiful and stable marking results even when the laser marking is conducted at high speed.
Contact CIMTEC and to find out more about the Panasonic Laser Marker FAYb LP-RF and others in this series at 877.524.6832